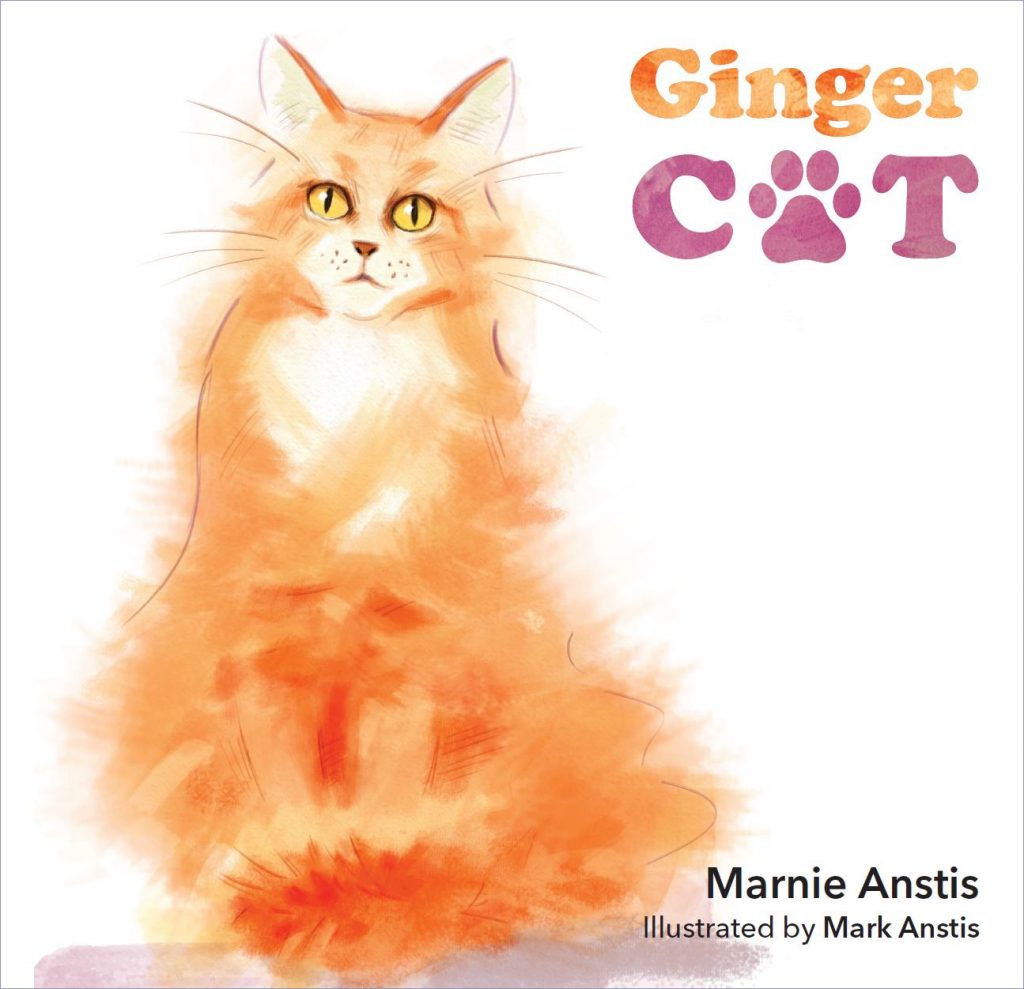 "The story of Gingercat was an idea that dropped into my head from nowhere while daydreaming on a road trip. It is a story of love and empathy, wrapped in a re-hash of a famous fairy tale set in a tall, dark forest. Gingercat is similarly set within a tall, dark city.
A stray cat smells food through an open doorway, laps from one of three bowls, cleans herself on one of three chairs, then settles on one of three beds. When Daddy, Mummy, and their little boy find her fast asleep, they are faced with a decision: what name shall their new cat be given?"
"Although it is a completely different concept to Taketakerau: The Millennium Tree, many of the same writing-rules apply. Every single word is important. And that especially includes all the words that are removed."
"I was delighted to have (son) Mark come on board to illustrate this story, and I appreciate the skills, vision and value he added to the project."
"We lost our dearly loved special farm cat during the production of Gingercat, and thus many memories are incorporated within the pages."
Writing her first book – Taketakerau: The Millennium Tree – was a long, but delightful experience for Marnie Anstis. But the frightening realisation that she then had to self- publish – and then self-market – was a huge learning curve that was well beyond her comfort zone. However, the success of that book gave her confidence to embark on another self-publishing project: Gingercat – a young children's Picture Book.
Even as a small child, Marnie always enjoyed creative writing, but her busy retirement lifestyle these days is full of other activities she is passionate about too.
She and Peter live on their working-farm/orchard, and still take an active interest. Becoming grandparents 4 years ago added the important extra layer to their love-of-family, and they now often babysit the newest generation while keeping an eye on the last of the past generation.
A keen gardener, Marnie's green fingers now reach beyond the railings to include roadside plantings and reconstituting wetlands within their area. Voluntary community activities also take up precious hours. "But once my fingers start to tap a keyboard, the rest of the world slips away…"

Contact: bootsbooks@anstis.co.nz
Illustrator – Mark Anstis
Website: Mark Anstis Art